The prestigious
Socialist Unity Awards;
The best and worst of 2006
I will survive award
Goes to the Scottish Socialist Party. As their paper states "If ever there was a year that SSP members and supporters will be glad to see the back of, 2006 must surely be it. But we're now facing 2007 with renewed hope, a buoyant membership, and excitement."
Despite the extra-ordinarily bad year the SSP have had with an acrimonious split with their most high profile figure they have come through unbowed and have even been able to use the experience to reassess and evaluate how they do business. (archive)
Most under-reported left electoral result of the year
For the second year running eco-socialist Derek Wall wins the award for the most under reported left election result of the year.
Whilst in 2005 it was for a good second place in the Green Party male principle speaker race, this year it's for actually winning.
However, this time he'll have to jointly share the award with fellow socialist Sian Berry who joins him as the Greens' female principle speaker.
Derek Wall's responses to our general election questionnaire
Most in touch with reality award
Patricia Hewitt wins this award hands down this year and is a worthy successor to last year's recipient, the odious Michael Winner.
When she stated that the NHS is enjoying "its best year ever" she became the nation's most loved and admired politician for putting such a brave face on the mounting crisis caused by the financial incompetence and privatisation mania of this government.
Good riddance
Pinochet died this year.
Good.
Pinochet joined a number of tossers in hell including Saddam Hussein, Slobodan Milosevic, Milton Friedman, Gerald Ford, and Charles Haughey.
Whilst in no way would we want to celebrate anyone's death, particularly when it isn't Margaret Thatcher, we will forgive you if you choose to allow a sly smile to cross your lips at the thought of the old shit bag's demise.
Windbag of the year
So, so many to choose from. It's tempting to follow last year's winner, Bob Geldolf, with that sanctimonious multimillionaire friend of the starving Bono.
So we will.
Of course Bono is a knight of the realm now so it's important not to show him any respect what so ever.
Propaganda masquerading as a mainstream film
Whilst last year's winner, the Lord of War, tried to tackle the arms industry this year's The Wind That Shakes the Barley takes on the entirety of imperialism.
As our reviewer said "When all is said and done this is a great film, it makes you think and although you know Loach has his own conclusions the greatest respect he shows the audience is allowing you to come to yours."
Read the full review here.
Best Victory of the little over the large award
US socialist senator Bernie Sanders (pictured milking a cow, as you do) for his incredible victory in Vermont making him the only self proclaimed socialist in the US senate.
Having slogged away from his victory in 1981, when he became Mayor of Burlington, Sanders shows that even when the odds are stacked against you it is possible to win if you're willing to fight over the long term.
Here at Socialist Unity we can be rather cynical about elected politicians and leaders, but never let it be said we don't give people a fair go!
The political correctness gone mad award
A number of papers reported that murder suspect Mustaf Jama had fled the country under his sister's passport dressed in a veil.
A spokesman for West Yorkshire police said: "It's a possibility. He could have been wearing a pantomime horse outfit as well. But until we get him, we won't know for sure."
Never let the truth get in the way of a good story.
Best blog
Dave Osler's blog "Dave's Part" takes the best blog of the year award (read it here) beating last year's winner Lenin's Tomb and a host of other excellent blogs to gain the top spot.
Consistently informative, an indispensable read for the up to the minute political activist.
Yes, it's still possible to produce quality TV award
George Galloway's appearance on Big Brother... possibly the best TV there has ever been EVER
Some of our coverage here
Life in the old dog award
Goes to the Labour Left, or perhaps more precisely John MacDonnell left wing leadership contender who has demonstrated that whilst the left in the Labour Party may be down it is not quite out, yet.
John's campaign has, for the first time in a long time, seen a resurgence in the confidence and activity of those on the left of the party. Whilst it's true to say it's not comparable to previous left leadership campaigns in scale and influence it is none the less a welcome sign.
Entrepreneur of the year
Entrepreneur of the year goes to our beloved Prime Minister ,Tony Blair, for developing new ways of making cash for the strapless Labour Party.
So it's illegal and encourages allegations of cronyism and corruption - but we know he understands what's really important "Show us the money, my Lord."
Issue of the year
There has barely been a week go by without a big climate change / climate chaos story hitting the headlines. Every party in the land now takes the issue seriously - even if sometimes the issue is ensuring the photographers get a politico's best side.
New forms of direct action, front page headlines and the ability to make Al Gore look interesting have been just some of the side effects of the funny weather we're having.
There is an alternative award
This award goes to Trish Law and Dai Davies who demonstrated that the Blaenau Gwent result was not simply a blip, but a demonstration that New Labour can't take it's heart lands for granted.
Read the report here
>>>> these are our awards - what would yours be? >>>>
Much missed, much loved award
This award has to go to the fabulous Linda Smith who died in February this year.
"She was a true satirist with an eye for the ridiculous, the bogus and the vain. Her leftwing politics were never dry nor passionless, nor did they stray into rhetoric. They came from a basic sense of what is decent, fair, sensible and humane. She was an observant atheist and had been president of the British Humanist Association for two years. She was deeply sceptical about many things and her wit could be savagely cutting, but I do not think it was ever cruel. She was hard but fair."
Read Jeremy Hardy's obituary in full here
Most inventive medium for propaganda
The Clown Army won this award last year for their use of embedded journalists at the G8 summit in Scotland. This year the award goes to War on Terror - the board game for an exciting and interesting way of exploring the issues around George W's long war.
Our review here.
The revolutions are not over award
Goes to the entire Continent south of the USA. Hugo Chavez convincingly won the Presidential elections in Venezuela whilst Ecuador, Chile, and Nicaragua also saw left of centre figures elected to the top job.
In Mexico a long country wide revolt over a stitched up election sees no sign of abating and the revolutionary uprising in Oaxaca continues despite repression.
Bastard of the year
For the second year in a row it simply has to be be George W. Bush, the Great Satan himself.
Although things don't look quite so rosy for him this year with rock bottom approval ratings and an administration that has managed to get slaughtered at the mid terms it seems more and more Americans are catching on to what the rest of the world had reached consensus on quite some time ago.
We just don't like him much.
Columnist of the year
Mark Steel has relentlessly hacked away every week coming out consistently with inspiring analysis and wit that would suit even the most jaded leftist palette.
Top marks go to the Independent for finally allowing us to view his column on line for free.
Like last year's winner, George Monbiot, Mark has successfully combined a powerful urge to change the world with an easy and accessible style. We hope to see much more of Mark over the next year.
Clearest anti-union boss of the year
JJB Sports have snatched the title from Gate Gourmet this year for the way they shamelessly victimised union militant Chris Riley after the victorious strike, that saw significant increase in wages, had ended and they'd agreed to a no victimisation clause.
They only have themselves to blame that this saw a return to strike action with a 78% yes vote and pickets on JJB Sports shops across the country.
How are they going to convince the workforce they'll keep their word this time?
https://jjbfightback.blogspot.com/
Services to music award
Whilst last year Gorillaz won this award for their subtle subversion within the mainstream, this year Dave Rovics wins the award for his services to down the line radical music in the tradition of Woody Guthrie.
Moving, witty, angry and stirring by turns Rovics has kept the flame of left field political song writing fresh and topical - long may he continue to do so.
Large amounts of his music is available free for download online at https://www.davidrovics.com/ although we're sure he'd appreciate a "what you can afford" donation for the trouble.
Rovics
Sensitivity award
Jack Straw for his contribution to "race relations" in this country with his extremely delicate and cautious remarks about the veil.
His deep and genuine concern about how Muslim women are the "other" and they should pull their socks up showed the nation just how political debate can be carried out without resorting to bigotry, sound bites and populism.
Oh no, hold on...
One of our many pieces of the subject here
Head butt of the year
Step forward Mr. Zidane to receive your special award for head butt of the year.
As Daniel Davies said on CiF "There are many elements to the perfect headbutt, of which Zidane's size and strength were perhaps the least important. I was much more impressed with his technique, which was practically flawless. I am sure that Materazzi would agree with this assessment; perhaps for the first time in his life, he was left flying through the air and falling over because of actually being hit."
Watch it on YouTube
Read this piece on France and the World Cup
The rapid response award
This new award goes to... wait for it... the Socialist Workers Party for their superb mobilisation over the invasion of Lebanon and Gaza by Israeli forces.
Whilst often on the left campaigns and protests can take a little while to appear this was an example of the left at its best, responding when and where it was needed.
Of course many have problems with the slogans and analysis put forward, we say pish and tish to this - this is one example where the left would have been far weaker without the presence of the SWP.
SU Blog reportage
Best Bishop award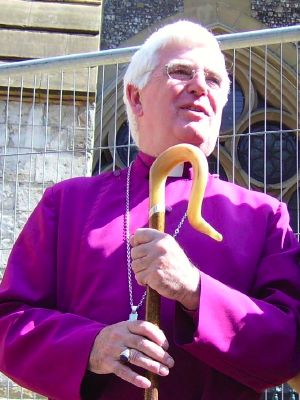 We love giving awards to the clergy - it's what we do!
This one goes to the staggering, mumbling, joy riding, toy throwing Bishop of Southwark for showing us all what the job description of being the Bishop of Southwark really entails.
Revolutionary contempt for aesthetics on the web
This award goes to the UCU left. Whose website not only sears the retinas it also offends every possible law of good taste.
Well done.
Although, you'll have to forgive us if we don't supply an illustration of this one.
Too slow to die award
Ariel Sharon.
Hopefully next year we'll be giving him the "Good Riddance" award.
Come on.
The last of a generation
Ted Grant, one of the last of the generation of Trotskyists who effectively founded the hard left in post war Britain, died this year.
Ted and the handful like him were central to keeping a socialist current alive that existed independently of the Stalinist regimes that would find themselves so discredited.
Read Alan Wood's obituary of Ted here.
The unfond farewell award
This year we're awarding a joint unfond farewell to both Berlusconi and Donald Rumsfled two characters we'd rather have not seen anything of in the first place, and have departed high office rather unwillingly.
>>>> back to home page >>>>